Have no fear, we are here to show you how to style light colored denim. So you can rock this look all summer long!
You may be overly attached to your dark denim because it has always been there for you and has never let you down. However, we are going to show you how to rock and be just as confident in light-colored denim.  It's true dark denim has been a go-to for dressing up or going out, but with our tips on how to wear light denim you will look just as dressy while making a statement!
We are styling up our Dear John Joyrich Comfort Skinny's. First off, if you have not tried these jeans in any of their washes you are missing you! They are super soft and have a nice stretch to them, thanks to the 5% spandex. The spandex stretch makes them comfortable without them stretching out too much throughout the day. They are the most comfortable skinny jean we have tried, basically denim leggings. We love them!
I have decided it might be easiest to break it down into three easy hacks to make styling light-wash jeans simple and painless!
First Tip: High contrast tops will be your best friend and first choice.
This works well for me because black is one of my favorite colors, (because it's slimming, right?) We styled these frayed/ raw hem light-wash denim skinnies  with a slightly elevated basic black top, our Surplice Dolman Sleeve Top and because of the high contrast it allows the denim to really stand out. We also decided to pair the denim with our fan favorite black cowhide slide sandals.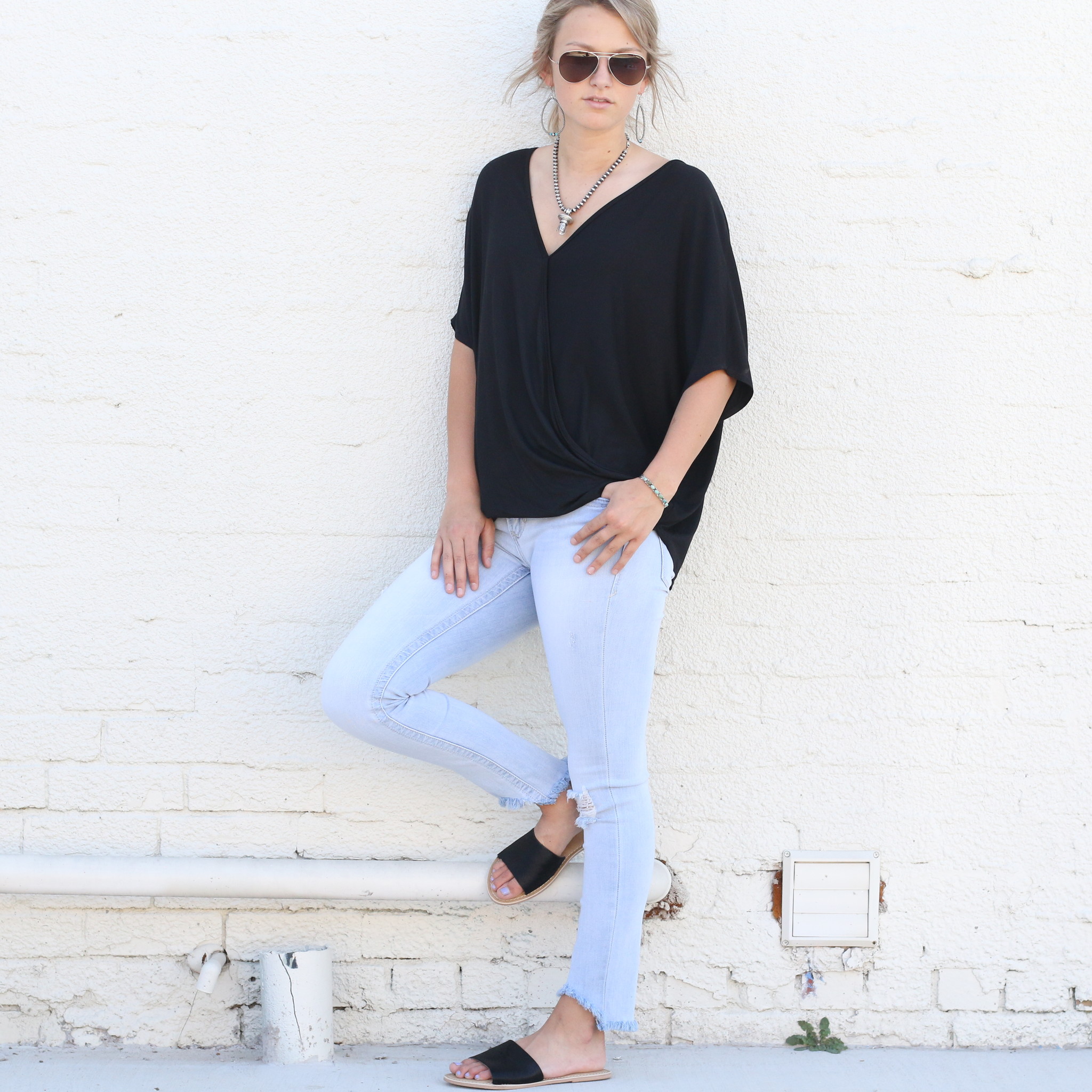 The reason that this works is because the contrasting colors compliment each other. If you were to choose a matching color like, a light blue shirt it would end up washing the whole outfit out. Another high contrast color option you could try would be a dark burgundy, like our front knotted tee.
Second Tip: If plain Jane isn't you and you need excitement in your life try a contrasting top with a bright color detail.
So we have the same amazing denim jeans here, but instead of just a black shirt, we opted to add some color with this flowy Ruffle Sleeve Embroidered Top.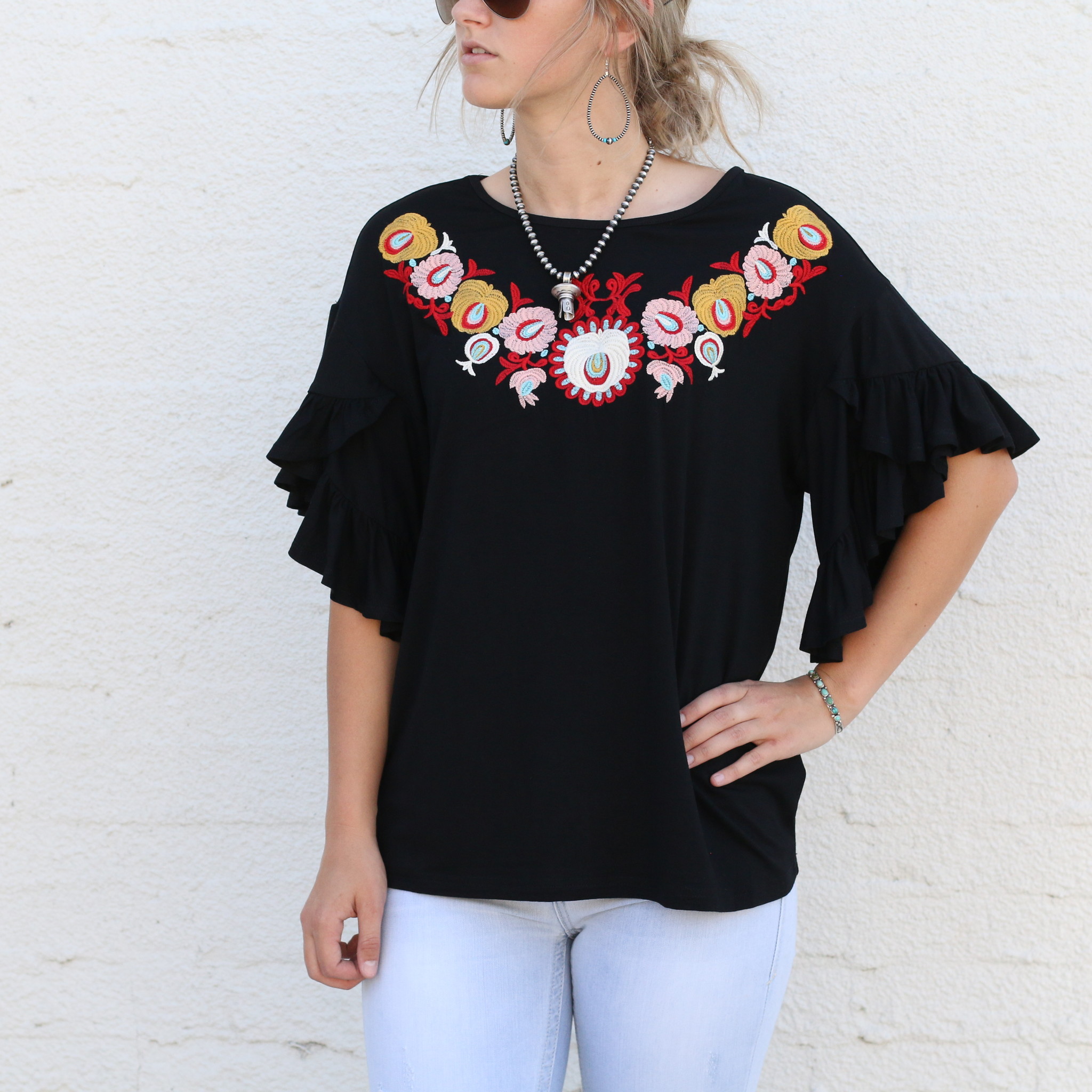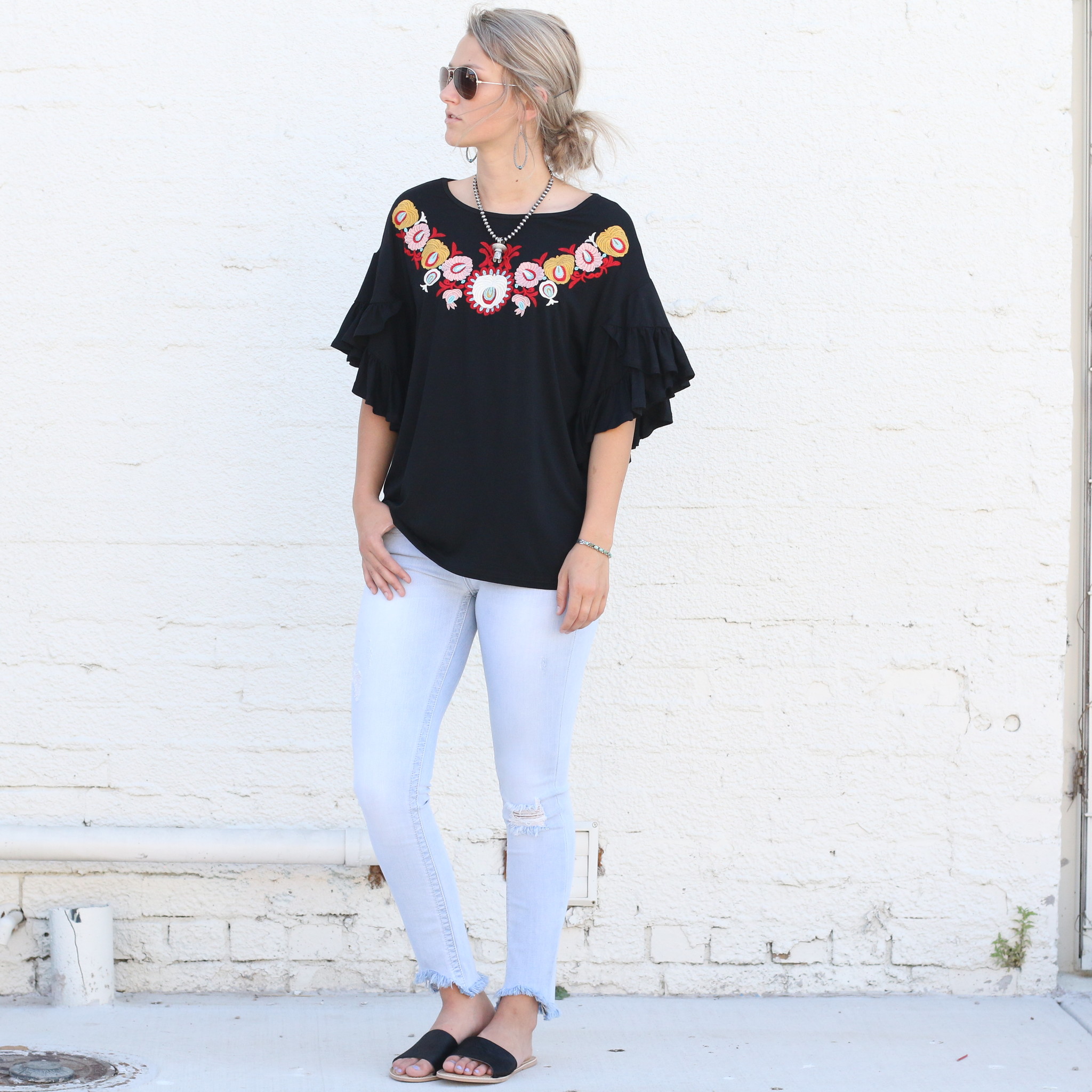 Third Tip: Don't overthink it! Light denim can be just a dressy as dark denim.
It is a common assumption that light denim is less dressy, but with the right styling this light-wash denim can work double-duty for you just as good as a dark-wash. For example a great day look would be the outfit from the first tip, basic black top, and our best selling black cowhide sandals. Simple, but gets the job done. You look polished and ready to tackle the day! If want to go from day to night just switch out the basic top for our halter cami with tassels and embroidery, and swap the slides for a black wedge. It's just that easy!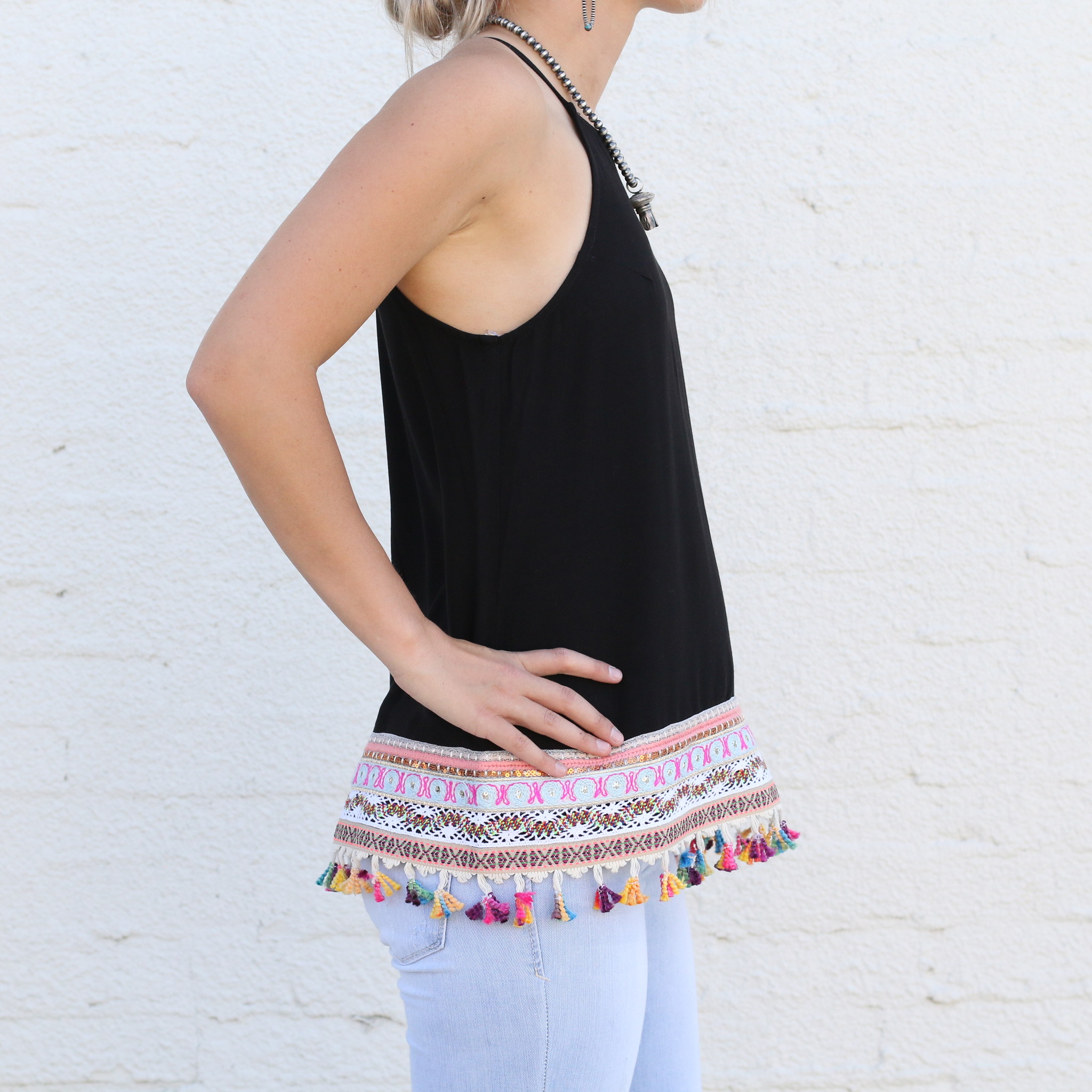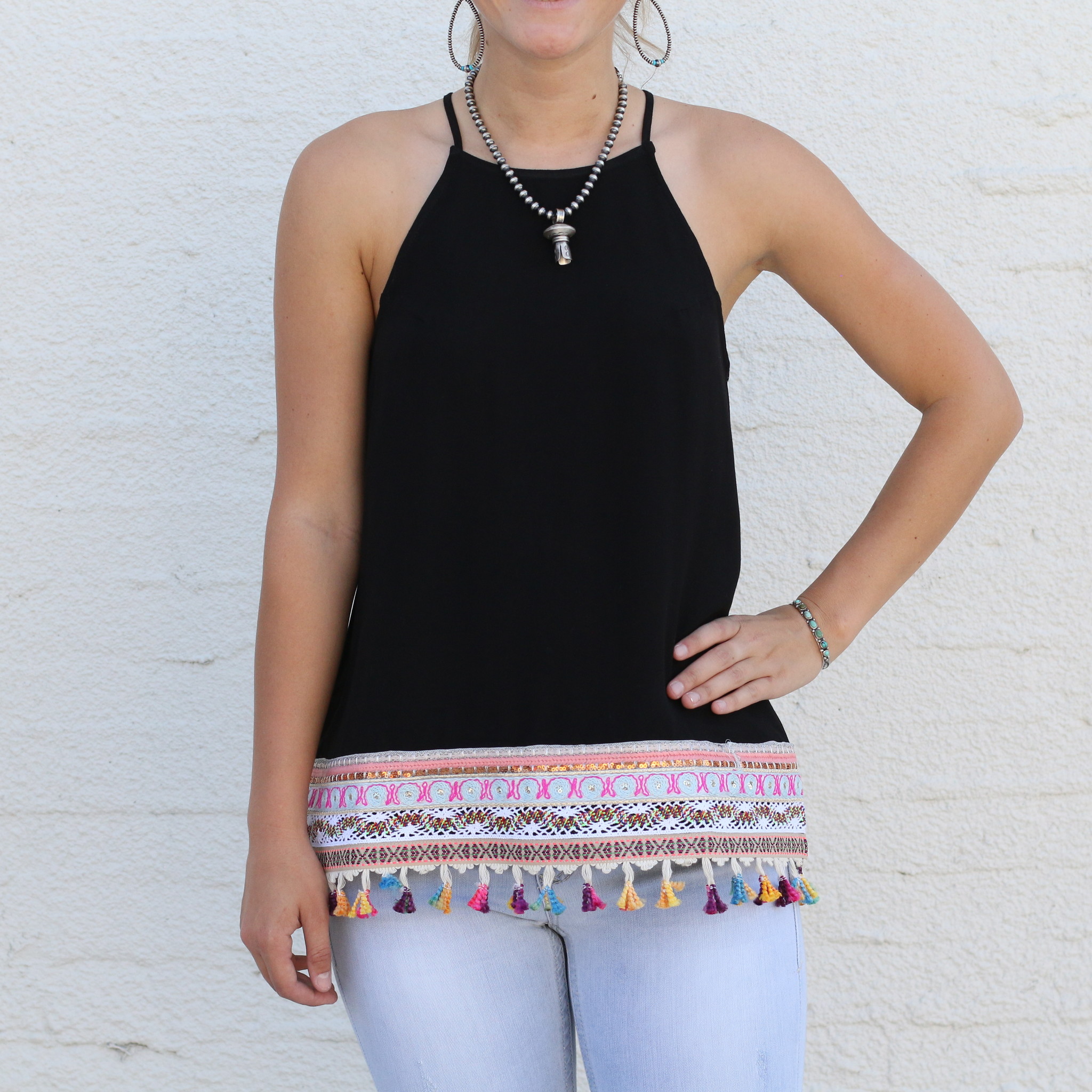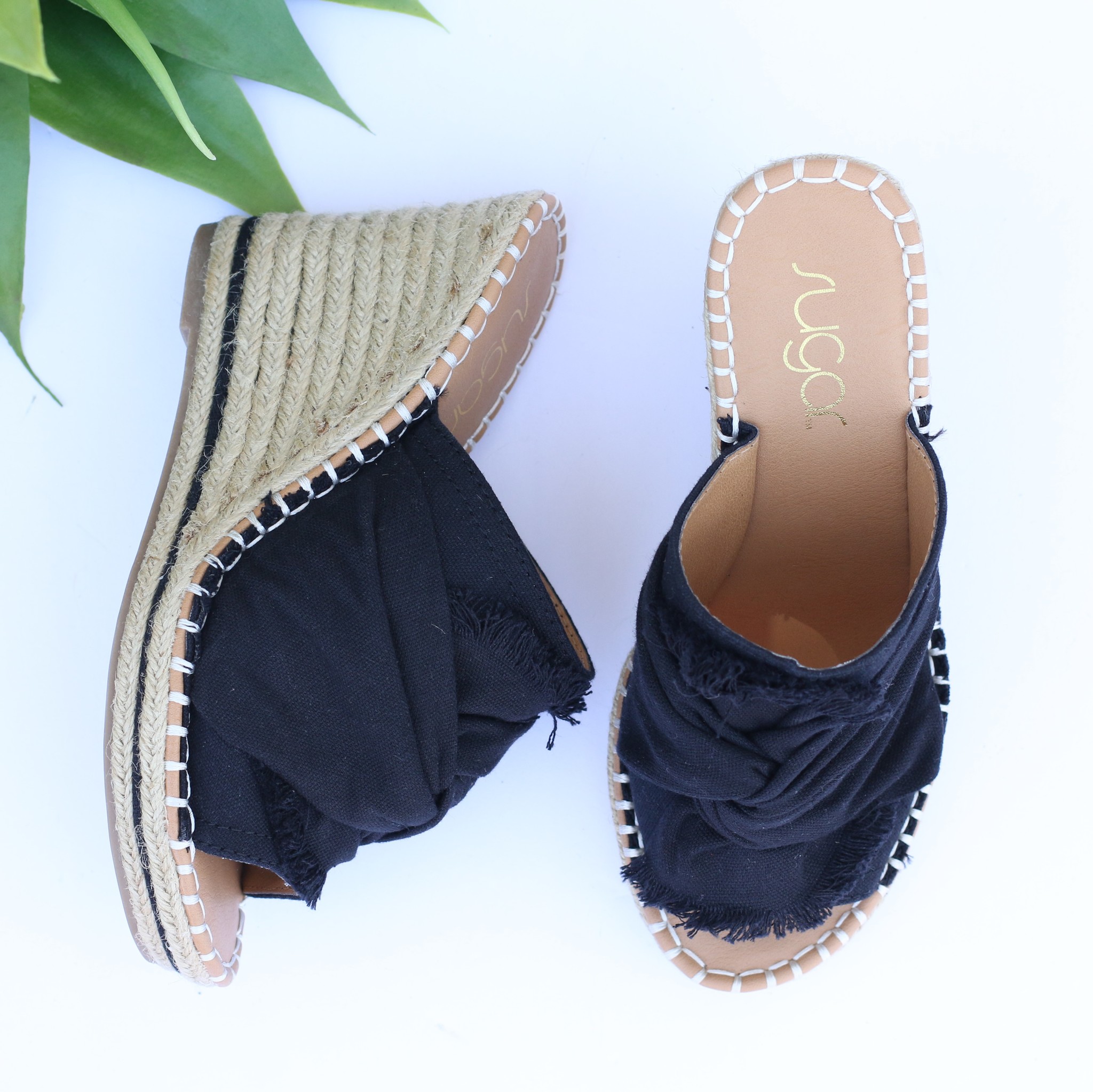 There you go a few helpful hacks to tackling light-wash denim! Please comment with questions, or let us know how you style your light-wash jeans. Fashion is so personal it is always fun to see how others creativity flows through their wardrobe.