Who are we?
PUNCHY'S, apparel, jewelry & styling for women with a touch of timely class. We opened our first store inside Circle T Resort & Arena in August 2014 and launched our website the same month. As we continued to grow we opened up a second store in April 2017 located in the Historic Downtown of Stephenville, TX. In December 2017 we came up with a way to better serve our customers instead of focusing on two store fronts; We expanded our custom styling services and closed our original location in the arena. Currently, Stephenville, TX is our headquarters. We offer hand selected unique collections that manifest our style of western culture tempered with modern flair.
What the heck is
PUNCHY'S

? 

PUNCH·Y - having an immediate impact, forceful, compelling, impressive, vigorous.  

PUNCHY'S, est. in 2014, was formally The Punchy Cowgirl, est. 2006, with a roadshow and website foundation. When we purchased the business we opened up our first storefront inside Circle T Arena and Resort. This location allowed us to expand and broaden our product lines to include not only women's, but men's, kid's, footwear and tack. With these new selections we dropped the Cowgirl and became PUNCHY'S.
What's in it for you?
We strive to provide you exclusive collections encompassing southern class & innovative style. 
Come find us on the road, or schedule an appointment with our stylist for a private shopping experience!! We can help you get your wardrobe to work for every situation?!? 
Meet the Crew
Jenifer Burnett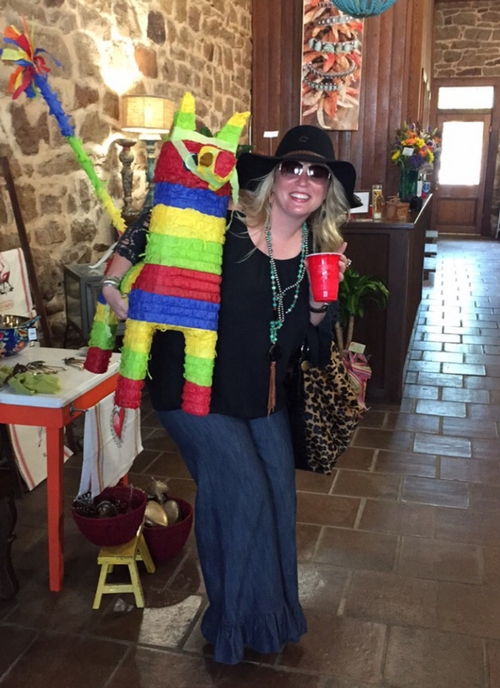 Owner & Stylist/ Designer
Self Proclaimed Roadtripster and Tote Bag Junkie/addict
-I love all things manly or leather scented
-Punchy Rose, my toy Australian Shepard, goes just about everywhere with me 
-
Hair spray and a tease comb are sure to be close by if I am around.
-Proud member of the fightin Texas Aggie class of 2008
Favorite Clothing/ Shopping Weakness?
-Bags, Big Bags, Little Bags, Bags that fit inside my other bags!
-Samples in line at Sephora
-Turquoise Jewelry especially if it's vintage and unique.
-Dresses because they are comfortable and they look like I really tried that day.
If You Could Only Eat Three Foods What Would They Be?
Favorite Texas Country Artist?
Mike Ryan & Old School Pat Green
Favorite Movie Quote?
"You wanna buy a rope?" - Pure Country
"You know the funny thing is that white speck of white on top of chicken shit? Well it's chicken shit too!!" - Pure Country
What Makes You PUNCHY?
My fearless style, my love for people and my passion for people to feel their best and live the best way that life has to offer.
We look forward to sharing this journey and our adventures of PUNCHY'S with you!!